work with luna
---

How your Master Session works:
You complete two questionnaires- one about your finances and one about your relationship with money.
I'll ask you to create an image of your current relationship with money. (draw, paint, collage, find an image on Google, whatever works for you).
We will schedule your session once your questionnaires and image are received.  (We are out about 2-4 weeks right now)
I will review your homework, and ask for supporting documents (statements, additional information) as needed so that I have a complete picture before we meet. I will make sure I understand your goals, dreams and current situation.
We meet, via Skype, phone or in person, for 90 minutes.  I ask questions and draw out your financial strengths and share my observations and recommendations with you.
You receive a recording of the session within 24 hours.
You do your homework, set your plan in motion, and feel financially empowered.
Repeat as needed..
Ready?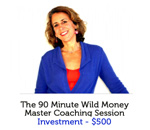 90 Minute Wild Money Master Coaching Session
The 90-minute Wild Money, Master Coaching Session.
Learn More Here >>>
"Lunaria Financial, Ltd. is the name Luna Jaffe uses to better describe her vision for client service and wealth management.  Luna Jaffe is licensed to offer securities and investment advisory services through KMS Financial Services, Inc."