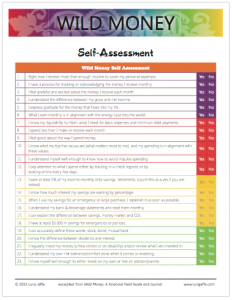 Wild Money™ Self-Assessment
A 36-page self-assessment to gauge where you in your journey to financial wisdom. There are 6 sections: Receiving Money with Grace, Spending with Intention, Nurturing Your Nest Egg, Growing Your Gold, Protecting Your Potential, and Giving with Guts.
You'll also get to fill-in your personal Wild Money™ mandala, to have a visual representation of where you are now.
Get the Assessment
zGuide to Choosing a Financial  Professional
Visit my financial planning website to get this 12-page pdf guide that will help you navigate the choices in finding your financial advisors.
My zGuide to Choosing a Financial Professional will walk you through an insightful and practical process for finding the perfect fit in your future advisor.
Get the zGuide
Creative Exercises for Opening Up the Money Conversation
This guidebook, specifically for practicing financial planners, introduces 6 Wild Money™ templates for use with your clients.
Get the Guidebook